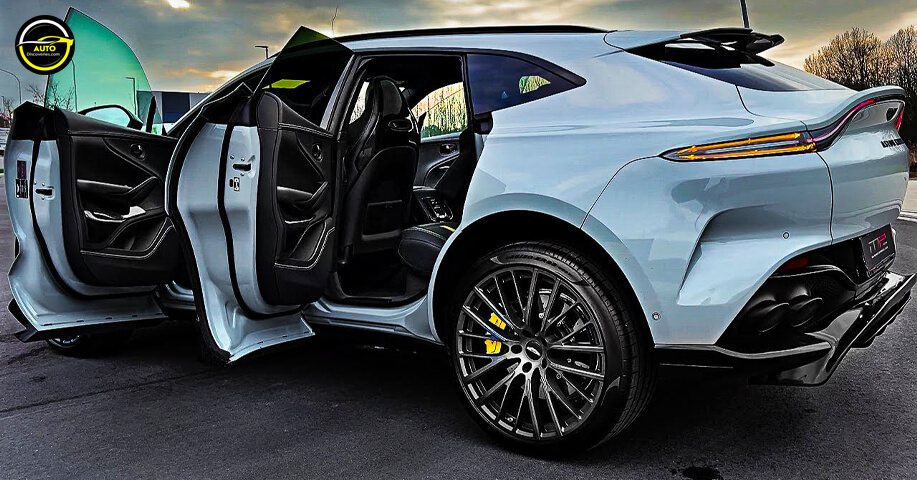 Sports-car companies creating SUVs is a phenomenon enthusiast have watched with varying degrees of horror, excitement, and acceptance ever since the Porsche Cayenne debuted. With its DBX, Aston Martin arguably—and, well, surprisingly—has been the most successful in transferring the design language of its sports cars onto an SUV shape. The brand, however, has also come to realize that the waning days of internal combustion are no time to hold back when it comes to horsepower. So, whereas the standard DBX develops 542 horsepower from its AMG-supplied twin-turbo 4.0-liter V-8, the new DBX 707 model produces 697 horsepower—or 707 PS in the more flattering European measure.
The design of this high-test version, of course, has been tweaked, mostly for reasons of function. The 707's grille opening is 27 percent larger to permit greater airflow for engine cooling. Flanking it are revised air intakes bisected by horizontal DRL lighting elements. There are several new aero bits: a carbon-fiber front splitter, revised skirts along the rocker panels, air deflectors ahead of the front and rear wheel openings, an air outlet cut into the rear quarter panels, an extended rear diffuser, a longer rear spoiler. The mirror caps and side strakes can be done in carbon fiber or black to match the window surrounds, hood vents, and roof rails. Fortunately, none of these addenda detract too much from the organic shape of the DBX—although we're not, particularly fans of the rear air outlets and that protruding diffuser. Still, this is a long way from Mansory-style aftermarket overkill.
The uprated power output comes from the same 4.0-liter V-8 as the standard DBX. Of course, the engine isn't exactly the same: There are new turbochargers, redesigned induction and exhaust systems, and a reprogrammed engine control unit to manage it all. The massaging was done at Aston Martin under the head of powertrain engineering Ralph Illenberger, who, having come from AMG, knows this engine well. To cope with the extra output, the standard DBX's nine-speed automatic transmission is replaced by an AMG-sourced version that features a wet clutch pack in place of a torque converter.
Click Here To See Alfa Romeo Giulia GTA & GTAm by Sauber Engineering
Share this