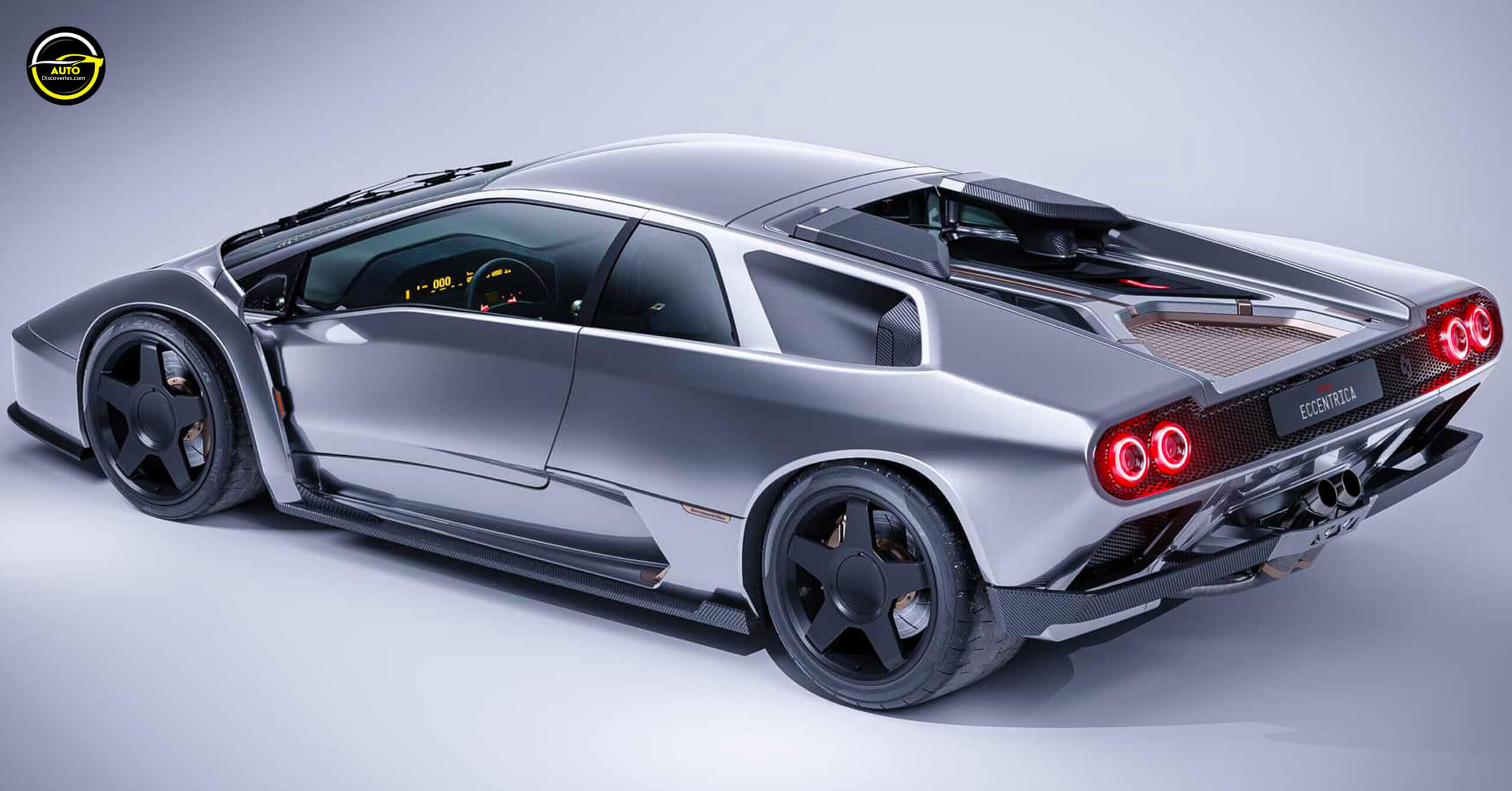 Eccentrica, a company founded by Emanuel Colombini, is celebrating Lamborghini's 60th anniversary by upgrading 19 Diablos for passionate buyers. The Eccentrica Diablo is a modified version of the track-focused GTR model, featuring changes to the body panels, interior, and mechanical parts.
The Diablo's body panels have been redesigned for improved functionality and weight reduction, utilizing materials like carbon fiber and 3D-printed titanium. The front grille now assists in airflow, and the lights have been updated. The car's overall length remains the same, but the overhangs have been reduced, and it sports 19-inch alloy wheels inspired by motorsports.
Inside, the Diablo's interior has been revamped with leather and Alcantara upholstery, and every plastic part has been replaced with higher-quality materials. The carbon fiber steering column pays homage to the Diablo GTR, and the digital display and sound system by Marantz have been modernized while maintaining a nod to the original technology.
Under the hood, the Diablo retains its 5.7-liter V12 engine but has been improved with new valves and camshafts. It now produces 542 horsepower and 442 lb-ft of torque. With a projected power-to-weight ratio of 2.9 kg/HP, the Diablo accelerates from 0 to 62 mph in 3.5 seconds and reaches a top speed of 208 mph. The car also boasts enhanced braking capabilities and improved grip for a thrilling track experience.
Customization options for the Eccentrica Diablo are extensive, allowing buyers to personalize their vehicles. Each Diablo takes around 16 to 18 months to build and is priced at €1.2 million ($1.3 million USD), excluding the donor car. The first test vehicle was unveiled in Milan and will be showcased at the Goodwood Festival of Speed and Monterey Car Week.
Click Here To See Luxury Ai Bentley Electric Hypercar Concept – BEAST!
Share this