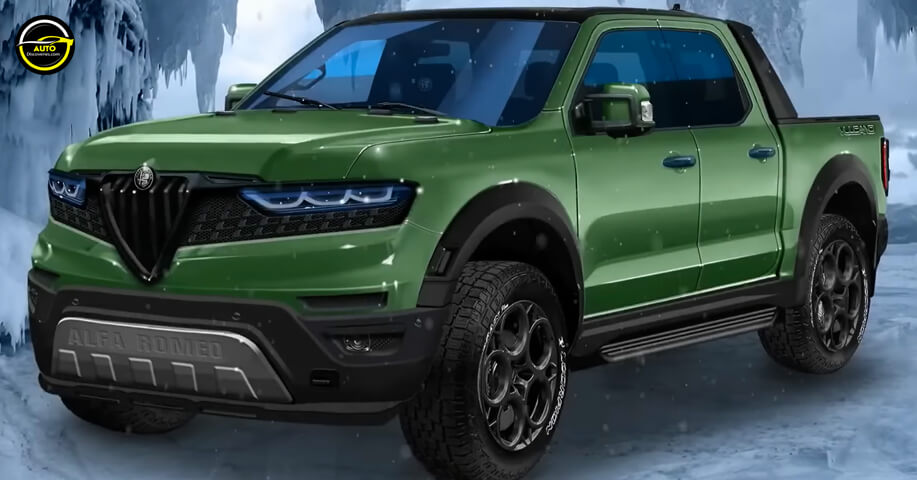 ALFA ROMEO PICK-UP "Vulcano" Concept by Tommaso D'Amico, the vehicle of exuberant proportions and appearance, such as to be able to contrast all existing modern vehicles of equal use. After the success currently enjoyed by all the Pick-Ups on the road, from Mercedes to Ford, from Mitsubishi to Toyota.
I thought it useful to enrich the range of Alfa models with a car that is as useful as it is advanced. The Pick-Up is a vehicle belonging to the truck category and approved as such. Its main feature is the presence of a compartment, ideally in place of the trunk, which is separate and not accessible from the passenger compartment. The model of the render takes its cue from the versions of this sector that exist today, of course, providing cutting-edge materials and super technology both for interiors and upholstery and for mechanics and bodywork.
The instrument panel is equipped with a significant series of latest-generation options and a particularly captivating infotainment system. This model, based on modern technologies, features the 300 HP 2.2 AT8 turbo petrol engine with 4X4 traction (hybrid and electric versions are also available). The bodywork will have sporty colors that will take up the Alfa colors with the highest quality products.
Custom Brabus S63 AMG Cabriolet! Crazy Brabus Sound + Conversion
Share this